Portrait Artist in Montreal, Quebec, Canada paints or draws high-end portraits. Portraiture artwork. Contact aspiringartists@mail.com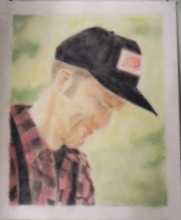 This portrait was done with pastels. Apologies about the poor quality photo!
Posted by Hello
Portrait Artist or artwork is currently accepting international commissions. Email
aspiringartists@mail.com
We are away from Montreal this month but will keep checking our email even while not in Montreal.
PLEASE NOTE:
I am not yet the greatest expert on how to upload pictures of my artwork to a website. Please allow for this when viewing my art. The picture below of the young man, for example, is much sharper in reality! Sorry about this. I will improve, the artwork on my site will look better, as my technological skills improve!